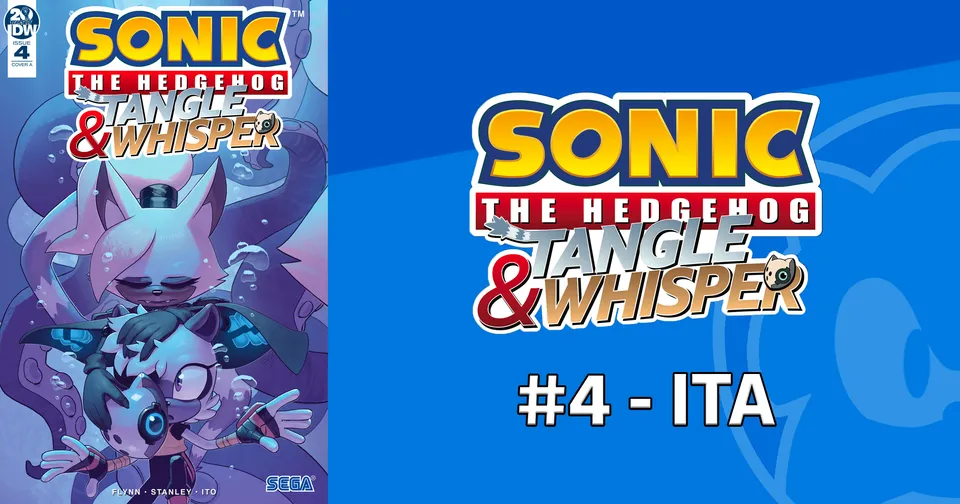 Sonic the Hedgehog: Tangle & Whisper #4 – ITA
Sonic Legacy Italia vi presenta la traduzione italiana di Sonic the Hedgehog: Tangle & Whisper #4 – ITA
Vi ricordiamo che continueremo a tradurre e a pubblicare i numeri della serie fino ad un'eventuale acquisizione dei diritti qui in Italia. Se ci sarà una pubblicazione italiana ufficiale, cesseremo immediatamente le nostre traduzioni amatoriali!
## Resa dei conti
Scritto da: Ian Flynn
Disegnato da: Evan Stanley
Colorato da: Leonardo Ito
Lettering di: Shawn Lee
Assistente redattore: Megan Brown
A cura di: David Mariotte
Personaggi
Badniks

Buzz Bomber

(Multipli)

Blowfish Transporter
Egg Pawn
Moto Bug

(Multipli)

Super Badniks

Diamond Cutters

Claire Voyance

(Ologramma)

Mimic
Slinger the Ocelot

(Ologramma)

Smithy the Lion

(Ologramma)

Whisper the Wolf

Dr. Eggman

(Menzionato)

Jewel the Beetle

(Menzionato)

Miles "Tails" Prower
Tangle the Lemur
Wisps

Blue Wisp
Cyan Wisp
Green Wisp
Orange Wisp
Pink Wisp
Curiosità
L'ologramma di Slinger a pagina otto dice a Mimic, in lingua originale, "You're pretty good!", con un gesto in cui punta due dita. Sono una battuta ricorrente e un gesto tipici di Revolver Ocelot, della serie Metal Gear, un personaggio al quale Slinger è ispirato.